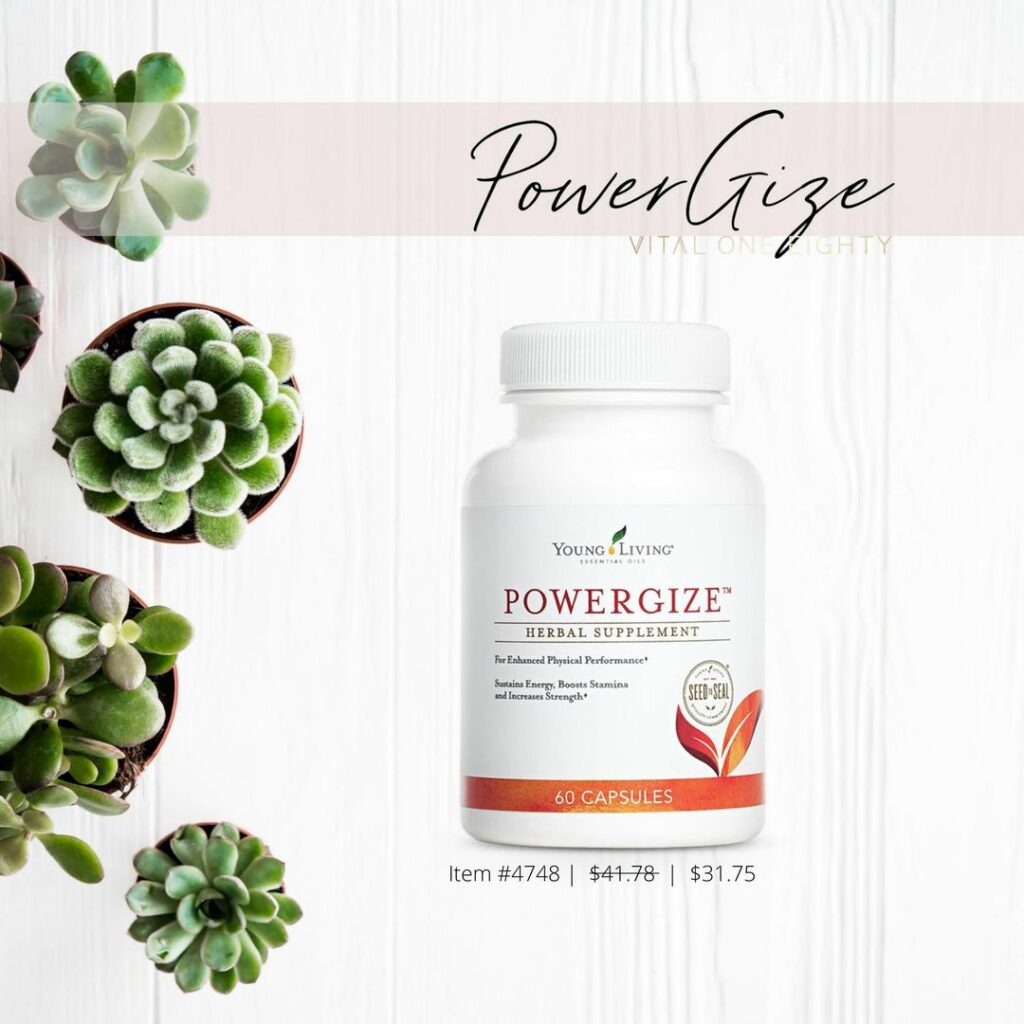 A favorite among athletes, PowerGizecan be utilized by any adult wishing to boost their physical game. Formulated with Ashwagandha root (also found in EndoGize), PowerGize helps support male testosterone, physical performance, and sexual drive. Both men and women may use this supplement – and I know a lot of ladies that LOVE it!! 
If you're wanting more energy at the gym, or if you need something to boost your physical game when the grandkids want to play – try PowerGize consistently for 30 days and see how you feel! 
INGREDIENTS
PowerGize Energy Blend – 995.25 mg
Desert hyacinth root powder
Tribulus fruit/leaf extract
Essential Oils: Idaho Blue spruce aerial parts oils, Goldenrod flowering top oil (whoo hoo!), Cassia branch/leaf oil.
Other Ingredients: Hypromellose, Rice flour, Silicon dioxide
DIRECTIONS FOR USE
NOTE: Ashwagandha is not safe during pregnancy.
LET'S LOOK CLOSELY AT INGREDIENTS
B6: Supports brain development, nervous system, and immune system.
Magnesium: Aids in normal function of the cells, nerves, muscles, bones, and heart.
Zinc: Supports immune function, tissue growth, and skin, eye, and heart health.
Ashwagandha root extract: Supports immunity, mental clarity, concentration, and alertness. May improve memory and brain function may help reduce cortisol levels when chronically stressed, and may support healthy emotions, peace, and stress.
Longjack root powder: May boost testosterone, increase energy, and physical endurance.
Fenugreek seed extract: Supports digestion and blood; improves exercise performance.
Epimedium leaf powder: Boosts stamina, focus, and energy.
Desert hyacinth root powder: Supports cardiovascular and renal health; muscle building.
Tribulus fruit/leaf extract: Enhances libido, natural diuretic properties, supports heart.
Muira puama bark powder: Promotes nerve function and cognitive health.