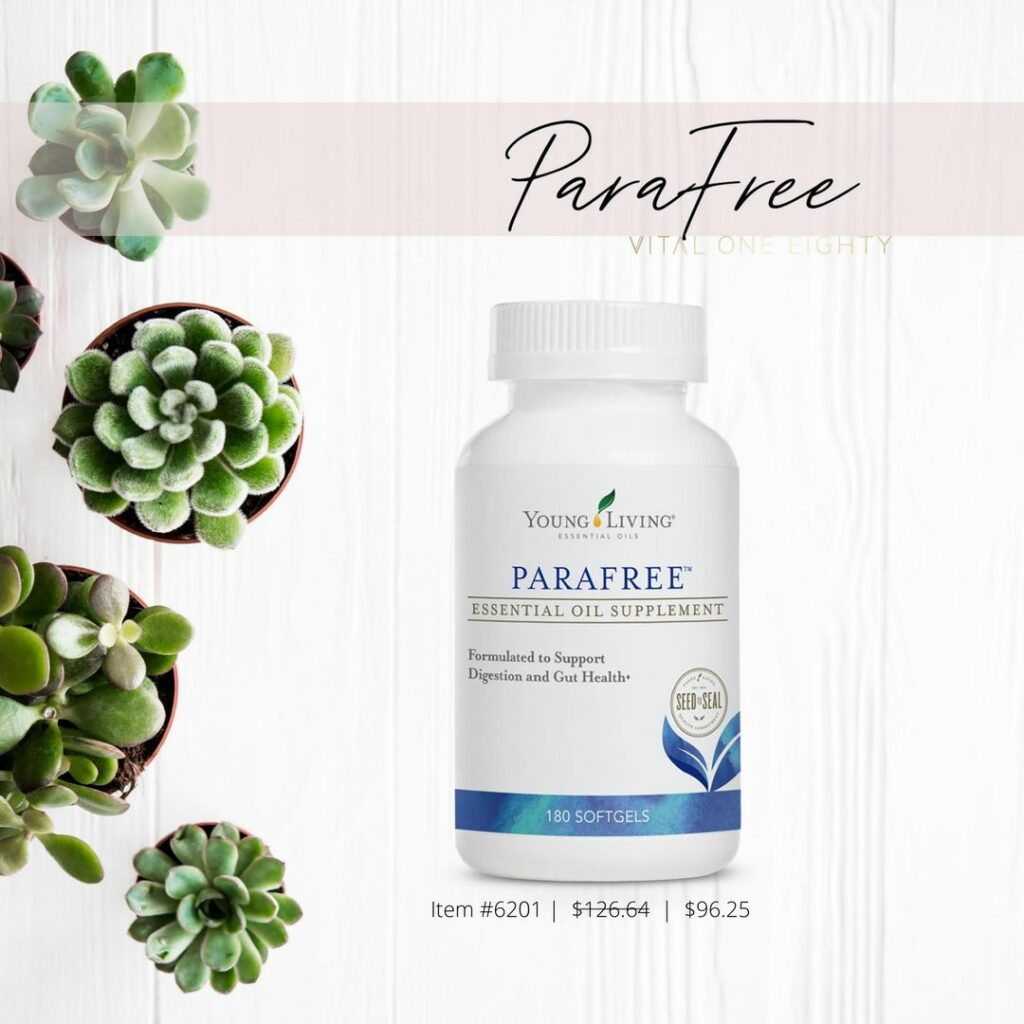 ParaFree supports digestion, circulation, respiratory, and immunity by focusing on helping your body rid itself of unwanted hitch-hikers. 
This essential oil capsule combines powerful oils that cleanse the body and support oxidative stress.
Did you know? Many parasites can be found in the human body. We have almost 300 species of parasitic worms that we could contract over a lifetime!! 
INGREDIENTS
ParaFree Blend – 2250 mg
Dorado Azul aerial parts oil
Peppermint aerial parts oil
Other Ingredients: Fish gelatin (tilapia or carp for capsule), Glycerin, Water
DIRECTIONS FOR USE
Take 3 soft gels twice daily or as needed. For best results, take for 21 days and rest for seven days. Cycle may be repeated three times. Take on an empty stomach for maximum results.
NOTE: Excessive internal use of essential oils is not considered safe during pregnancy.
This is a great product to get free with your ER points and try for 21 days!!! A lot of people will do this once a year just for easy cleansing maintenance.
LET'S LOOK CLOSELY AT INGREDIENTS
Sesame seed oil: Carrier oil rich in vitamin B with high antioxidant properties.
Cumin seed oil: Aids in digestion and promotes a reduction of potential flatulence.
Olive fruit oil: Antioxidants protect cells and promote cardiovascular health.
Anise fruit oil: Helps keep blood sugar levels stable, improves digestion.
Fennel seed oil: Improves digestion and is a mild appetite suppressant.
Vetiver root oil: Known for its soothing, grounding abilities.
Bay Laurel leaf oil: Is renewing and purifying.
Nutmeg seed oil: Supports lymphatic, digestive, and immune health; promotes energy.
Tea tree leaf oil: Supports respiratory and intestinal tract.
Thyme leaf oil: Supports digestive cleansing, urinary, immune, and respiratory systems.
Clove flower bud oil: Antioxidants support a healthy microbial balance in the body.
Ocotea leaf oil: Stimulates digestion and supports the liver;r supports blood sugar, cardiovascular, and blood flow; helps curb cravings and promote feelings of fullness.
Dorado Azul oil: Supports the respiratory system.
Tarragon leaf oil: Improves digestion, fights bacteria.
Ginger root oil: Supports digestion, cleanses bowels, minimizes flatulence.
Peppermint: Supports digestion, brain function, immunity, energy, and focus.
Juniper: Is a powerful cleanser and detoxifier.
Lemongrass leaf oil: Supports immunity, digestion, can help lower cholesterol levels.
Patchouli leaf oil: Is soothing and releasing to the body.