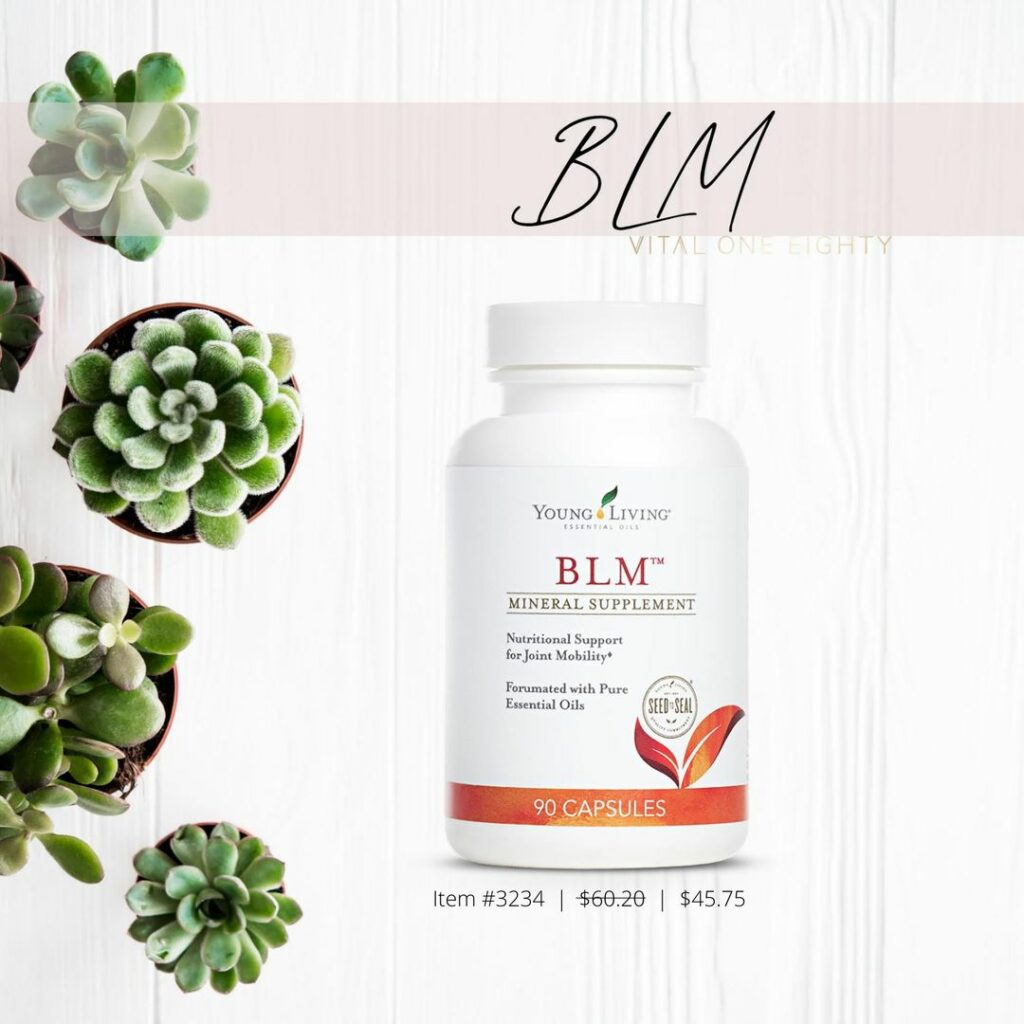 BLM stands for bones, ligaments, and muscle. BLM is an excellent addition to your mobility support regimen. It helps improve flexibility as well as boost immune function. Infused with essential oils known to help support circulation and soothe muscles, this supplement may be combined with AgilEase and/or Sulfurzyme or taken by itself.
INGREDIENTS
Proprietary BLM Blend – 715 mg
-Balsam Canada leaf/branch oil
Other ingredients: Rice flour, gelatin, magnesium stearate, silicone dioxide.
DIRECTIONS FOR USE
If you weigh less than 120 pounds, take 1 capsule three times daily. If you weigh between 120 and 200 pounds, take 1 capsule 4 times daily. If you weigh over 200 pounds, take 1 capsule 5 times daily. Allow 4-8 weeks of daily use before expecting noticeable results.
NOTE: Keep in a cool dry place. Keep out of the reach of children. Do not expose to excessive heat or direct sunlight. If pregnant or under a doctor's care, consult your physician.
***Young Living products are not intended to diagnose, treat, cure or prevent any disease. Please contact your doctor or healthcare provider if you have personal questions about adding this to your supplement routine.
LET'S LOOK CLOSELY AT INGREDIENTS
Glucosamine Sulfate: Produces chemicals involved in building tendons, ligaments, cartilage, and synovial fluid (the thick fluid that surrounds joints). Derived from shellfish.
Collagen type 2: May improve joint flexibility, comfort, and physical functions; supports gut integrity that helps boost the immune system; helps form elastin and other compounds to help maintain skin's youthful appearance; supports healthy digestive function.
MSM: Decreases joint and muscle discomfort and supports respiratory function.
Wintergreen: Useful to relieve discomfort and stimulate relaxation.
Manganese: Supports bone health, antioxidant activity, healthy blood sugar level management, and metabolic support.