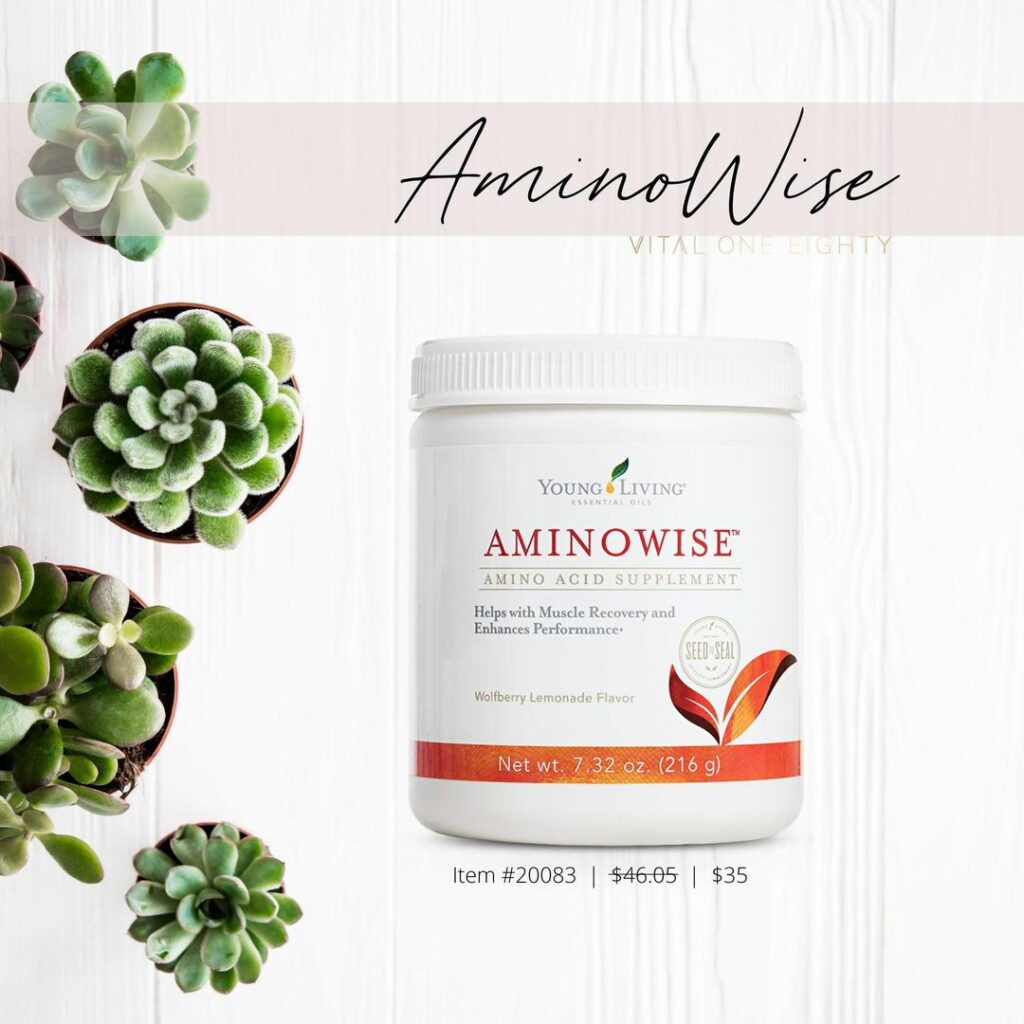 AminoWise is one of those special necessities for those of us who love to get in a good workout, as well as for those who need extra amino acids to help with your circulatory system.
Most people think this is only for people who go to the gym, but it can also be taken daily to help support MOOD!! 
INGREDIENTS
-Sodium (as sodium citrate) 46 mg
AminoWise Muscle Performance Blend 5.7 g
Branchedchain amino acids (2:1: 1 leucine, iso-leucine, valine), L-citrulline, L-glutamine, B-alanine, L-arginine, L-taurine
AminoWise Recovery Blend 1.2 g
Ningxia wolfberry fruit powder, Lime powder, Polyphenols extract, Zinc, Vitamin E, Lemon peel oil, Lime rind oil.
AminoWise Hydration Mineral Blend 277 mg
Sodium citrate, Potassium citrate, Calcium citrate, Magnesium citrate
Other Ingredients: Tapioca Maltodextrin, Citric acid, Natural Flavors, Calcium silicate, Stevia (Stevia rebaudiana) leaf extract, Silica, and Tapioca starch.
DIRECTIONS FOR USE
Mix 1 scoop with 8 ounces of water and consume during or after exercise.
***Young Living products are not intended to diagnose, treat, cure or prevent any disease. Please contact your doctor or healthcare provider if you have personal questions about adding this to your supplement routine.
LET'S LOOK CLOSELY AT INGREDIENTS
Vitamin E: Supports immune function, prevents inflammation, promotes eye health.
Calcium citrate: Supports bone loss.
Magnesium citrate: Supports the normal functioning of cells, nerves, muscles, bones, and heart.
Zinc: Promotes a healthy immune system. Aids in healing of wounds.
Amino Acids
L-citrulline: Helps open veins and arteries to increase blood flow and reduce blood pressure.
L-glutamine: Boosts immune cell activity in the gut, helps prevent infection and inflammation.
B-alanine: Improves athletic function and exercise capacity, aids in building lean muscle mass.
L-arginine: Stimulates the release of growth hormones and insulin, promotes increased blood flow.
L-taurine: Promotes cardiovascular health, lowers risk of disease, increases sports performance.
Citrus Powder and oils
Lime fruit powder: Promotes weight loss, improves skin quality, improves immune system, promotes consumption of water.
Lemon peel oil: Natural detoxifier, promotes weight loss, boost immune system and energy.
Lime peel oil: Boosts immune system, natural detoxifier.