Summer Popsicles: Pineapple Ginger Lemonade Popsicles

Enjoy a fresh taste of summer with Pineapple Ginger Lemonade popsicles!
This delicious recipe comes from special guest Sylvie Shirazi, the recipe developer, food photographer, and real-food lover behind GourmandeInTheKitchen.com. Check out her blog to find a collection of recipes that celebrate your inner gourmand with fresh, seasonal ingredients that are free from gluten, refined sugar, and processed ingredients.
Look for more posts from Sylvie in the Essential Edge and right here on the blog in the coming months!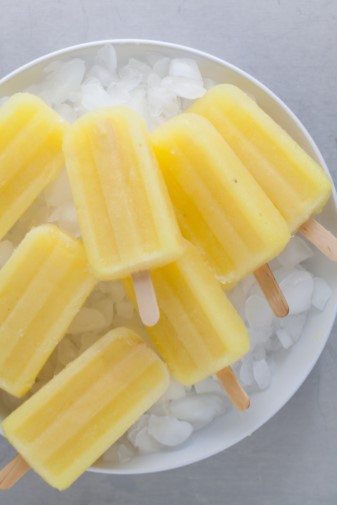 Pineapple Ginger Lemonade Popsicles
Prep Time: 5 minutes, plus freezing time
Serves: 8
Ingredients:
12 oz. fresh pineapple, chopped
½ cup fresh lemon juice
½ cup filtered water
¼ cup raw honey
½-inch piece fresh ginger, peeled and finely grated
2 drops Ginger Vitality 
4 drops Lemon Vitality
Directions:
Combine the pineapple, lemon juice, water, honey, and grated ginger in a blender. Blend on high until smooth. Stir in Ginger Vitality oil and Lemon Vitality oil. Transfer mixture to popsicle molds and freeze until firm.