Roasted Tomato Basil Soup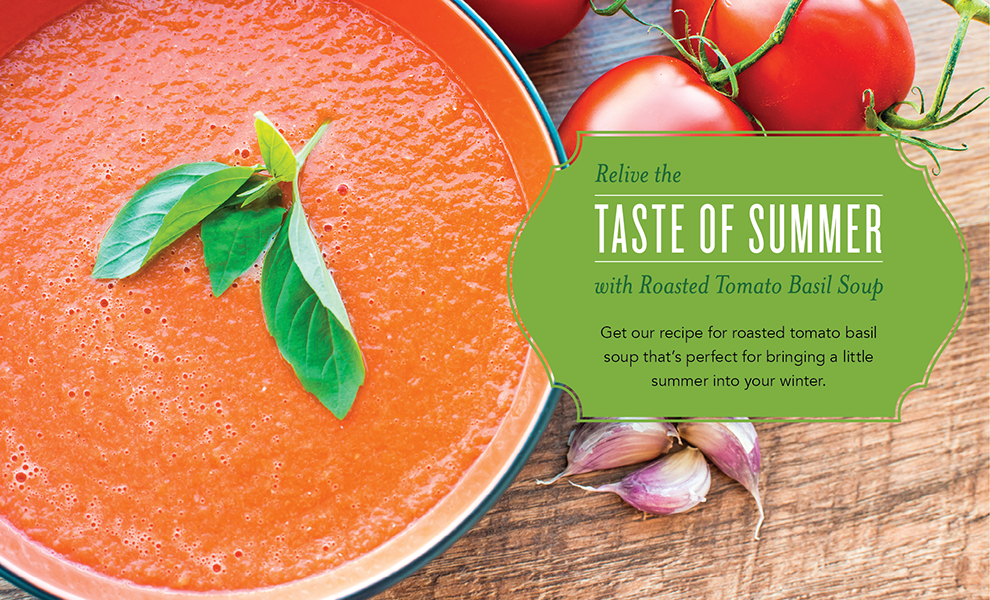 Nothing's better during the winter months than enjoying a delicious meal that's filled with the taste of summer! This easy-to-make, guilt-free family favorite has no cream, sugar, or any unnecessary additives and will still give you that scrumptious, comfort food sensation needed to survive the winter season.
Roasted Tomato Basil Soup Recipe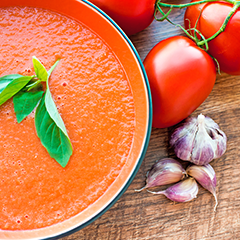 Ingredients
3 pounds ripe tomatoes, halved
1/4 cup plus 3 tablespoons olive oil
1 tablespoon salt
2 medium yellow onions, chopped
6 garlic cloves, minced
1/8 teaspoon crushed red pepper flakes
1 28-oz. can diced tomatoes
3 cups fresh basil leaves, packed
2 drops Basil Vitality essential oil
1 drop Thyme Vitality essential oil
4 cups chicken or vegetable broth
Instructions
Preheat your oven to 400 degrees.
Place the halved tomatoes in a medium bowl then pour 1/4 cup olive oil and salt over them and stir to combine.
Spread the tomatoes in a single layer on a foil-lined baking sheet and roast in the oven for 45 minutes.
After roasting, remove the tomatoes from the oven and set aside.
Place the remaining 3 tablespoons of olive oil in a large stockpot over medium heat until shimmering.
Add the onions and sauté until they start to brown, about eight minutes.
Add garlic and sauté for one additional minute.
Add the roasted tomatoes (including any liquid from the baking sheet), red pepper flakes, canned tomatoes with their juice, fresh basil leaves, and chicken or vegetable broth.
Bring all the ingredients to a boil and simmer uncovered for 45 minutes.
Stir the Vitality essential oils into the soup and let cool slightly.
Puree in batches in a blender until smooth or use an immersion blender in the pot.
Adjust your seasonings to taste, serve warm, and enjoy!